I haven't imagined for the life of me that I would be fangirling over a teen star at my age! >.< So when did it all start? It started back in February of the current year, when Jay Fernandez made his first appearance on the series that was. There I was being a fangirl all over again. A month down the line (around March), I couldn't help but blog about it...
At that time, I thought I was all alone. Until one day, I chanced upon a group of conversations on Twitter from similar or like-minded individuals as myself. So I started stalking them. Well, I'd read through most of their daily conversations and found myself amused. When the series that was had situations going against our fave character Jay, I thought I'd butt into the conversations and share my piece of mind. I was both surprised and glad that I was somehow accepted into the group. That time, they called themselves Team Hopia. >.< Guess we were all hoping that Jay would somehow get the girl... we were wrong, much to our chagrin.
Before the series that was ended, I decided to give Diego Loyzaga's character Jay a tribute in the form of a scrapbook. Getting inputs from the group, I put together the scrapbook that I've sent through Digsters (Diego's official fan group of which I am also members) for Diego's birthday. >.< I've then put together this blog site to feature more of my two faves -- Diego Loyzaga and Liza Soberano. I'm still wishing that a DiegoLiza tandem project will be possible some time in the future. #wishfulthinking #everythingispossible #whentherighttimecomes #makeithappen #dreamcometrue
But what has that got to do with meeting Diego Loyzaga? Well, it's been a month since I put up this site, and I'm happy to say that I finally -- for the first time ever -- met Diego Loyzaga in person during the 'The Breakup Playlist Mall Tour' last Saturday, June 27th.
Diego wasn't able to make it to the SM Manila part of the Tour, but he did go to the Lucky Chinatown Mall. I was glad we were headed that way too, and that the whole waiting game was truly worth it! Of course, I have Ms. Fran to thank for it. >.<
How do I find Diego Loyzaga? Well, we all go gaga over him on TV and the HD scaps that we share around Twitter and Instagram. But I'd say, he's so much more (double superlatives... yes I'm aware of it!) better looking in person than on print or TV! If you haven't seen him yet, YOU SHOULD! You're truly missing a lot if not. >.<
How was he? I was surprised that he's very friendly and approachable. He immediately made "beso-beso" when Ms. Fran introduced me. When he learned that I put together the scrapbook and also this blog, he even gave me a hug. Aw! How sweet of him indeed! >.< For that one moment, I felt what it was like to be Agnes! Ha ha ha... He was truly thankful and appreciative. After the encounter, I honestly got to love him even more. It does make me want to shout out, "I LOVE YOU DIEGO!" >.<
Pardon the blurred photos that I got! Life has a funny way of turning out whenever I take important shots. They usually end up blurred. Boo-hoo! >.< I'm not the best videographer as well, but here's my video from last Saturday's mall tour. It was rather far and crowded where I was positioned, and I'm not a pro when it comes to balancing my camera... please bear with me... >.<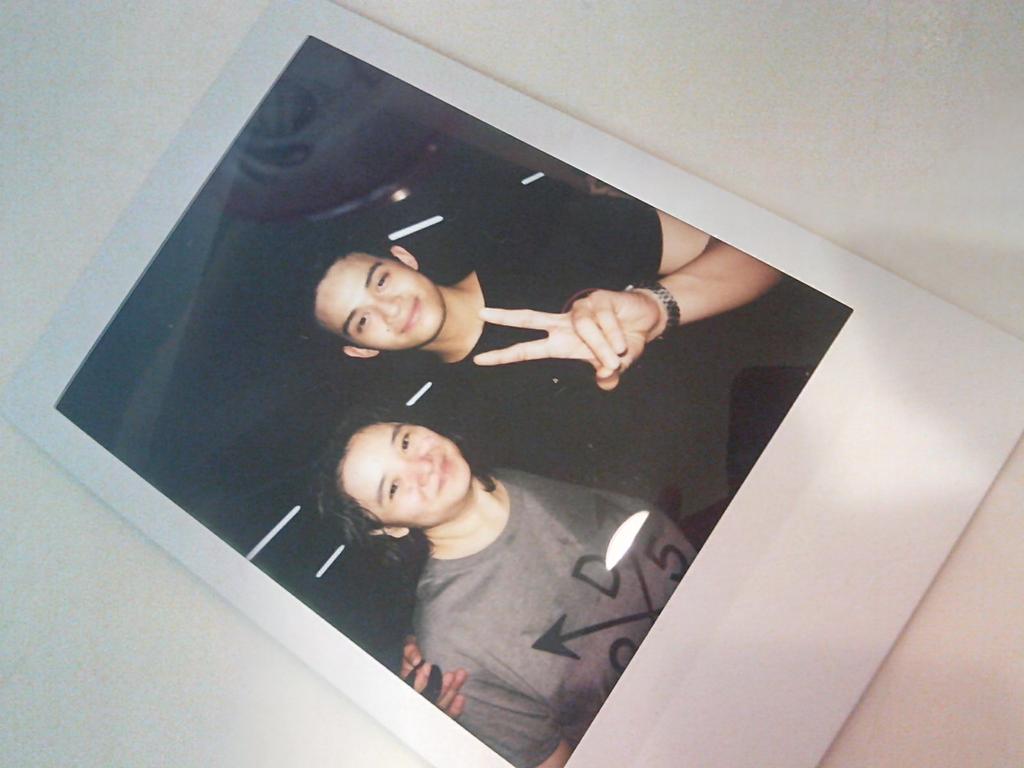 photo with Diego on my Instax (for my creative journal)
meeting Ms. Teresa Loyzaga
Yey! Meeting Diego Loyzaga for the first time (many more to come I hope!)
It was a great day! The first of many I hope... Remember to watch 'The Breakup Playlist' showing July 1st on cinemas nationwide! >.<
Good vibes & positive thoughts! ^_^